Rotating rotating sushi for me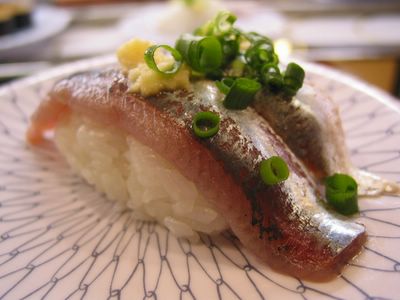 herring

Fortunately, I could have delicious sushi to my hearts content thanks to my senior.
He's working in top company of the concered filed. He invited me and other senior.
We selected a menu that I like the most. The restautant is < Sakanaya >. It was 3 times. I think that this restaurant is not in top class because too many rotating sushi restaurant came into existence since last year. I'm fed up with normal sushi. Nowdays What I like the most is mackerel, herring, perch, abalon. Especially herring and mackerel. Of course, a salmon is always loved with sour cream and slices of onions. For a good while, young people were struck with roll, various beautiful roll called as california roll. Luxuarious color, a brilliant way of using chef's hand, fantastic harmony of taste, various materials. I had a plesant time with them taking about work problem and future life. I gutfawe. After fresh sushi, we couldn't miss tea time. I took a mint herb tea to digest, they ordered macadamia latte with rich cream. Ah, today isn't lucky day ?